I can relate too! Fears can become overwhelming if I let them!
Self Discovery as a Jung Su Won Warrior
In "The Silent Master: Awakening the Power Within" Author "Great Grandmaster Tae Yun Kim" shares the following story.   This is one of my favorites as I am reminded daily in my life that "He Can Do, She Can Do, Why Not Me" and this story really speaks to me about the power of my thoughts, my attitude.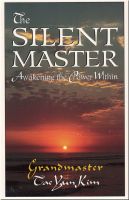 Page 35: " Realize that I Can't usually means I won't"
"All of us, at some time or another,  have felt the limiting power of " I can't." Even when we really want something, and even if that something is within our power, those two simple words can prevent it from happening. When you find yourself saying " I can't," look deeper to see if you're making another excuse. If you look honestly, you will usually find that your words "I can't" actually mean "I could, but I won't for this…
View original post 693 more words